Happy New Year, Béla, Block und Balz …
Ich wünsche euch alles Gute und immer gut Licht! (I read that somewhere on a german photographers web site 🙂 …)
Finally (though already some weeks ago) I found the time to document the tapes that I picked up in april in Köln … It became the 80th acquisition of the Found Tapes Exhibition …
As you know, it comes with a 'limited edition' on cassette of the corresponding montage :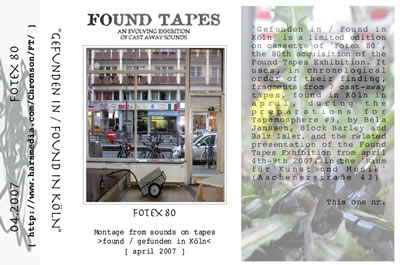 If you let me know your addresses, I'll send one to each of you!
There is some more writing in the newest soundblog entry: Restmuell
Hope we'll run into one another again this year …!
Take care, H.